Building on Trust and Experience
Serving Caroline and surrounding counties since 1992
Quality You deserve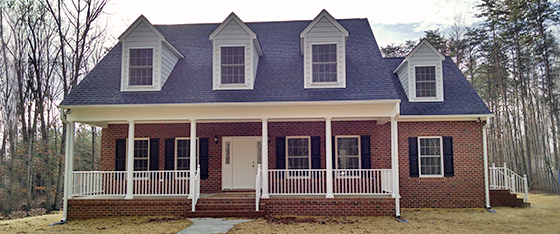 Our Clients
We are proud of all the positive feedback we've been receiving from our clients and would like to share their letters with you:
Roy and Gail Hempley - Bowling Green, VA

"... It turned out that your home designer could import our design into her program and produce plans suitable for our county. She also made a few suggestions that made our design more efficient. There were lots of things you had to incorporate to meet special requirements for our handicapped daughter and her family who would live in one wing of our home. You coordinated with all of your sub-contractors to make sure that our needs were met... The eventual cost was considerably below the cost of the pre-built home we originally wanted to build. We couldn't be happier with our new home. Take a bow. The success of our home is due to your tireless efforts on our behalf, and we thank you."
Luay Murad - Lake Anna, VA

"We were impressed with Mike Bullock Construction building our first home. He did a great job ensuring that we were kept in the loop for all decision making as well as walking us through the different phases of the build. He gave us the time needed to make the right choices and worked hand-in-hand with us to ensure we were extremely satisfied. He took the time to explain and provide expert advise to difficult decisions. All of these are great examples of his attention to detail and customer support that we value so much. Thanks!" 
Linda and Terry R. - Mineral, VA

"We love our house and thoroughly enjoyed working with Mike, Julie and their crew.  They were on time and on budget.  Quality work by quality folks."
Sharon and William White - Lake Anna, VA

"It is with great pleasure that we write this letter of appreciation for the outstanding job done by the MBC Team on our Lake Anna Home... How blessed we were to have found a builder who allowed us to "sleep at night" - resting assured that we had the best in Lake Anna building our future permanent home. On January 6th our home was blessed. Our guests were more than impressed with the workmanship. Many marveled at Mike's attention-to-detail ..."
Lawrence and Debra Wagner - Beaverdam, VA

"We wanted to take a moment to convey what a pleasure it was to work with you and your excellent staff. This is the third new home we have built and by far the most enjoyable experience. You and everyone on your staff were at all times professional, conscientious and just a pleasure to deal with. We were impressed with so many things, it's hard to know where to start...."
Eileen Heusser and Steve Smit - Lake Anna, VA

"We want to thank you and all your staff for making the process of building our home one that was definitely beyond our expectations. We have especially appreciated the quality of workmanship and attention to detail that went into every task from the site preparation to the final trim work.... We consider it very fortunate to have had your company build our home and would highly recommend you to anyone we know...."
Jimmy and Janine Hall - Beaverdam, VA

"We want to thank you for the wonderful job you did building our home. It was just what we wanted. We were amazed at how quickly you were able to get us into our new home.... All the extra personal touches you added, which were not required of you, clearly demonstrated the expertise and pride you take in your craft.... Mike, we want to thank you for all your hard work, beautiful craftsmanship and most of all your sincerity and honesty....."
Karen Beazley - Bowling Green, VA

"We love our home. We had our family open house several weeks ago. They all loved it. Several said it looked like a home that needed to be in a magazine. You all did a great job and were so easy to work with..."
Don and Phyllis Wilson - Louisa, VA

"... In our opinion, we could not have found a contractor, or someone to build our home and be as easy to work with as you were. The quality of the construction is outstanding and something you read about in a book and not something you experience first hand. If you ever need a reference, we would be honored if you would use our name."
Donna Fisher - Mineral, VA

"I want to thank you for making my lake house dream a reality and for helping me through all the stages of pre-construction, construction, and post-construction (punch list). ... I would highly recommend you and would build with you again. Your company has the characteristics that are important to me: quality, pleasantness, professionalism, fairness, and honesty. Plus, it was fun..."